The sauce was not only perfectly spiced — it was flavorful. I recommend using it with different curries!
AFRICAN GHOST PEPPER
This sauce was very tasty and had great flavor. I want to try the other flavors from this place because of how good this one was. I would definitely get this again. I liked how there was heat and flavor and it wasn't too hot.
HABANASCO - FERMENTED HABANERO
Great flavor--with a bit of heat. I'll be buying more of this sauce.
BIRD'S EYE CHILLI SAUCE
Great hot sauce! Plus how amazing that it supports a wildlife organization but outside of that, it's a great sauce. I'm going to check out the other flavors they have available. Great taste!
GHOST PERI-PERI
I put it on everything. Tacos. Burgers. Even salad (seriously). The taste is exotic and I can't find anything quite like it. The spice level is just above mild. So that's perfect for me!
LEMON & GARLIC PERI-PERI
Great flavor, not just heat! Hard to describe but we eat on just about everything!
JALANASCO - FERMENTED JALAPENO
Sweet, a little spicy and full of flavor. Very good on chicken wings and pizza!!!
SWEET DREAM SAUCE
Packaging is great and sauce is delish! This sauce. isperfect with any grilled meats. I also love it for breakfast with some eggs.
SOUTHERN BRAAI - BBQ SAUCE
Great value for money bc you need so little to add a ton of flavor. Delicious! Use more sparingly than you think you should. It packs a punch!
GHOST PEPPER SALT
I love this habanero salt. I find things to put this on, just so I can have more of it. It's not too hot at all. Just the right amount of a little heat, but nearly enough to take away from the food. I definitely recommend this.
HABANERO CHILLI SALT
I'm really happy with this purchase! It's a perfect amount of smoky and spicy. I use it on everything from eggs to baked chicken. Highly recommended it!
SMOKED CHIPOTLE SALT
Very nice combination of smoke and spices. Well balanced and makes everything taste better. If you like things with smoky flavor, this is definitely something you want to have in your kitchen.
SAFARI SMOKE SEASONING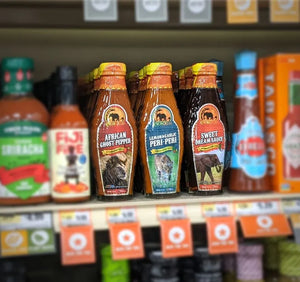 Become a reseller
We are looking for retail stores, restaurants and distributors in the US. Please click below to learn more.
Learn more